The Coalition on Adult Basic Education (COABE), representing 65,000 adult educators, exists to provide leadership, communication, professional development, and advocacy for adult education and literacy practitioners to advance quality services for all adult learners.  
In March 2021, COABE created the State Advocates for Adult Education Fellowship (SAAEF), a hands-on advocacy training program for adult educators, adult learners, and friends of adult education to champion the cause of adult education WIOA Title II programs. Through recommendations and interview processes, fellows are chosen for the yearlong program learning how to work with the media, their communities, and policymakers to create change benefiting adult learners and adult education programs.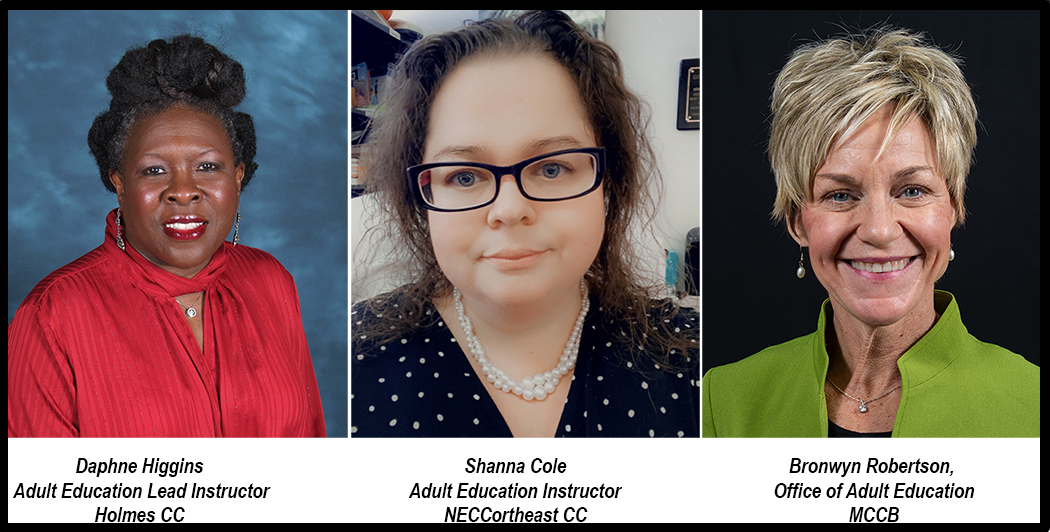 Shanna Cole, Adult Education Instructor with Northeast MS Community College, and Bronwyn Robertson, Program Specialist, Workforce/Employer Engagement with the Office of Adult Education at the Mississippi Community College Board, represented Mississippi in the first cohort of 2021 and are currently serving as mentors to the class of 2022. You can learn more about them at "Meet the SAAEF Fellows" on COABE's website.  
Daphne Higgins, Adult Education Lead Instructor with Holmes Community College, was recently selected to represent Mississippi in COABE's second SAAEF cohort. Daphne, with over 20 years of marketing, media, training, and consulting experience, has been the Yazoo City instructor for over four years. Prior to Holmes, with her professional development training experience, began her company C. Alexander Enhancement Services, providing soft skills and job readiness training.  
Daphne currently serves as a Board Member for the Mississippi Association of Adult and Community Education (MAACE) and South Central Community Action Agency (SCCAA), and holds a membership in COABE and the NAACP.  
A graduate of Jackson State University, she is an active member of Delta Sigma Theta Sorority, Inc., and holds several positions within the organization on both, national and regional levels, specifically the chartering president of the Madison County Alumnae Chapter.  
Daphne currently lives in Madison, MS, with her husband John, and their children, Charence Monique and John II. 
As the team continues to promote adult education in Mississippi, here's a snapshot of some accomplishments from 2021, which will be published in COABE's Collective Impact report due for release in spring 2022:  
AEFL Week Proclamation by Governor Tate Reeves;  
Senator and Representative (state) support; 
Representative (federal) staff meetings; 
Government official's office (state) meeting; 
Community engagement, such as mayors, alderman, community leaders, city officials, community based organizations, and other state agencies; 
Recognition of community college presidents; 
Marketing- AE on Demand podcast, MS SuperTalk, Skill UP MS blog, and student success stories and; 
AEFL Week and MIBEST Week celebrations. 
The future of adult education in Mississippi looks bright as we go into 2022! To learn more about the SAAEF program, visit: https://coabe.org/legislative-center/state-advocates-for-adult-education-fellowship/.