Join Our Team
Welcome to the Mississippi Community College Board's site for prospective employees!  MCCB is the state coordinating board for community colleges and has statutory responsibility as the fiscal agent to allocate and distribute more than $251 million to Mississippi's community colleges.  The Mississippi Community College Board is assisted by an executive director and a staff of approximately 70 located in Jackson and throughout the state.
Mississippi is home to 15 community colleges that provide high quality, accessible, cost-effective educational opportunities to the entire state.  The Mississippi community college system serves almost 250,000 residents each year in credit, noncredit, and continuing education courses. 
Join our dynamic, service-oriented MCCB team as we support Mississippi's state community college system to meet the challenge of training a world-class workforce.
Why Choose Us?
The Mississippi Community College Board offers a team-oriented culture with a focus on civility.  This culture stems from a Better Together approach that strives to nurture both interoffice relationships and external partnerships.
Whether you are a prospective employee interested in working for MCCB or a current employee, we are here to help you work towards excellence.
What We Offer
The State of Mississippi offers a comprehensive benefits package that includes a generous annual and sick leave package, attractive retirement benefits, work-life balance, a diverse and inclusive environment, and professional development opportunities in addition to MCCB's competitive salaries. 
Learn more about the MCCB's comprehensive benefits package.
Ready To Join Our Team?
Click here to explore MCCB's employment opportunities.
E-Verify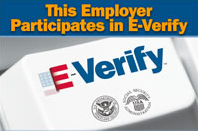 E-Verify Poster (English / Espanol)
E-Verify Information (English / Espanol)